Physiotherapy &amp Osteopathy treatment in Reigate:


Ultrasound Therapy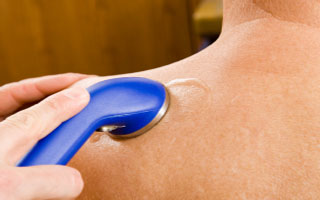 Ultrasound therapy is a treatment modality used by all therapists to treat painful conditions and to promote tissue healing. Ultrasound can be used on many muscular-skeletal conditions and injuries including osteoarthritis, myofascial pain, bursitis, tendonitis, scar tissue, sprains and strains.
This form of therapy uses sound waves generated through a transducer head to penetrate soft tissues. During the procedure, the affected area is massaged with an ultrasound transducer that has been covered with conducting gel to increase the efficiency of the treatment. The ultrasound wave is applied to an area of injury, which absorbs the energy and leads to pain relief. Ultrasound also increases the rate of healing and improves the quality of healing.
There are specifically two types of ultrasound therapy that our therapists use at Parkview Clinic, thermal and mechanical. Thermal ultrasound uses a continuous transmission of sound waves. The sound waves cause microscopic vibration within deep tissue cells, increasing heat and friction. The increase of heat encourages the amount of healing in the soft tissues by increasing blood flow and the metabolic rate. Mechanical ultrasound uses pulses of sound waves that can be adapted to penetrate deeper tissues. Whilst there is still an increase of heat in the tissues, it also causes small bubbles in the soft tissues to expand and contract. This effect helps decrease tissue swelling and pain.
For more information on the conditions we treat and services we offer, or to book an appointment please call
01737 247 555
or email us at
reception@parkviewclinic.co.uk
Get in touch...
If you have any questions in regards to any of the services we offer or any of the conditions we treat please don't hesitate to get in touch.
Get
10% OFF

Your Initial
Booking. DOWNLOAD Now!!
TIME LIMITED OFFER
We respect your email privacy
Your Discount Coupon will be automatically sent to you via email once you have confirmed your request.
Other Services
Privacy Policy
By continuing to browse the site you agree to our policy.
To view our policy please click here.