Physiotherapy &amp Osteopathy


Sports Injuries / Tendon problems & Plantar fasciitis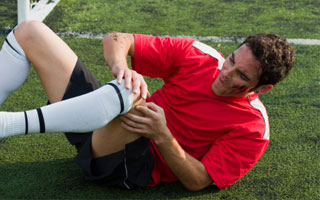 Millions of people throughout the world perform physical exercise and play sport. Unfortunately, all sports carry a risk of activity-related injury, regardless of whether your sport is running, cycling, swimming, rugby or any other discipline. Such sporting injuries can be categorised as being either an acute injury or an overuse injury.
Commonly, acute injuries can result from factors such as a direct blow with equipment or a fellow competitor, such as in a football tackle, or from innocuous injuries such as muscle strains that happen during sharp movements or under an athlete's own body-weight. Moreover, acute sporting injuries can effect a variety of different sites, including bone, cartilage, ligaments, muscle, tendon, bursa, and even nerves. Examples of common acute sporting injuries include ankle ligament sprains, muscle tears, fractures, knee ligament injuries, shoulder dislocations or ACJ ligament sprains. All of these injuries are painful, reduce function and prevent participation in your sport.
Overuse injuries often initially surface in the form of a 'niggle' that won't go away, but often develop into an issue that causes pain and reduces performance levels. Overuse injuries can develop for several reasons, including predisposing postural or biomechanical abnormalities, caused by such issues as muscle imbalances, fallen arches, or leg length discrepancies. Alternatively, factors such as over-training, improper footwear or running on hard surfaces may also cause overuse injury. Examples of such injuries are plantar fasciitis, tennis elbow, shin-splints, stress fractures, tendinopathy (tendon injuries), and anterior knee pain.
At Parkview clinic we understand the frustration associated with injury that prevents sporting participation. Regardless of whether you are suffering with an overuse injury or have an acute sporting injury, Parkview clinic has a specialist team of Osteopaths, Sports Therapists, and Physiotherapists, all with experience in treating your condition to ensure a successful return to sport as soon as possible.
Video: Osteopathy - Back pain and Sports Injuries
For more information on sports injuries, or to book an appointment please call
01737 247 555
or email us at
reception@parkviewclinic.co.uk
Get in touch...
If you have any questions in regards to any of the services we offer or any of the conditions we treat please don't hesitate to get in touch.
Get
10% OFF

Your Initial
Booking. DOWNLOAD Now!!
TIME LIMITED OFFER
We respect your email privacy
Your Discount Coupon will be automatically sent to you via email once you have confirmed your request.
Other Conditions
Privacy Policy
By continuing to browse the site you agree to our policy.
To view our policy please click here.