Physiotherapy &amp Osteopathy treatment in Reigate:


Inferential electrotherapy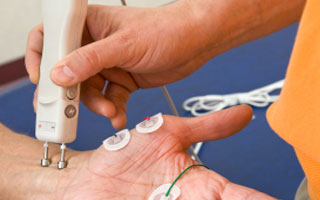 Interferential electrotherapy is a form of electrical current that uses low frequency electrical stimulation to affect the physiology of deep muscle tissue.
Interferential electrotherapy has many clinical benefits including the reduction of pain, the stimulation of healing and reduced recovery time. Interferential electrotherapy cross links the electro-leads with two currents being produced by each channel, the inference of each other's pulses beat harder and deeper into muscle and tissue. Pain can be reduced as electric fields act close to the body's pain gate mechanisms. Pain signals can be blocked from reaching the brain so the patient doesn't register pain sensations. Electrical stimulation also causes the body to produce natural painkillers, increase blood circulation and reduce oedema.
Other forms of electrical stimulation can be unpleasant or uncomfortable in the superficial nerves or skin; however, the process of current interference creates a stronger, deeper effect. Interferential machines have much stronger carrier wave that makes penetration of soft tissues easier and the sensation more pleasant. Also as the effect is deeper is can give a better and longer lasting effect. Patients generally feel a tingling sensation at the beginning of the procedure. Muscles accustom to the sensation and intensity can be adapted throughout the session. The electric frequency is rhythmically increase or decrease in amplitude so tissues produce increased mobility and pain relief.
For more information on inferential electrotherapy, or to book an appointment please call
01737 247 555
or email us at
reception@parkviewclinic.co.uk
Get in touch...
If you have any questions in regards to any of the services we offer or any of the conditions we treat please don't hesitate to get in touch.
Get
10% OFF

Your Initial
Booking. DOWNLOAD Now!!
TIME LIMITED OFFER
We respect your email privacy
Your Discount Coupon will be automatically sent to you via email once you have confirmed your request.
Other Services
Privacy Policy
By continuing to browse the site you agree to our policy.
To view our policy please click here.