Physiotherapy &amp Osteopathy for:


Neck Pain & Whiplash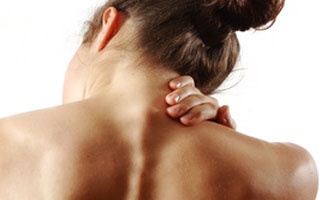 The neck is a delicate and sensitive structure, and the most mobile area of the spine. However, increased mobility at this area comes at the expense of stability and consequently it can be the source of a plethora of symptoms. Neck pain can also affect people of all ages and with different types of lifestyles. Typically, it can result in restricted movement, pain, and in more chronic cases cervicogenic headaches and neurological symptoms such as referred numbness and pins and needles.
Commonly, neck pain develops in the 'office worker' with poor sitting posture for prolonged periods along with a sedentary lifestyle. Over time, this 'pokey chin' posture causes several problems including muscle imbalance and increased curvature in the cervical spine (neck). These issues can result in increased strain on muscles, joints, and ligaments of the neck, and in some cases headaches or nerve irritation resulting in symptoms in the shoulders and arms. Similar aches and pains can develop from adopting poor sleeping positions.
Chronic conditions such as cervical degenerative discs, cervical stenosis, or cervical arthritis can develop as we age, or secondary to a previous injury or surgery. Chronic conditions such as these result in wear and tear of the joints, and the intervertebral discs that act as shock absorbers in the spine and typically culminate in restricted movement and pain.
Whiplash is a traumatic condition that typically affects individuals involved in road traffic accidents, where an impact from behind results in an acceleration-deceleration injury to the cervical spine. As the head is rapidly jolted backwards and forwards, damage can occur to the muscles, ligaments or joints in the spine. Whiplash can be an extremely painful and limiting injury.
Whether you are suffering from long standing neck pain or have had some traumatic injury to your neck in the past, neck conditions can be extremely painful and debilitating. Manual therapy and rehabilitative exercises are very effective for reducing pain and improving function in people with neck conditions, and at Parkview clinic we have a specialist team of therapists that are experienced in treating these conditions.
For more information on neck pain or whiplash, or to book an appointment please call
01737 247 555
or email us at
reception@parkviewclinic.co.uk
Get in touch...
If you have any questions in regards to any of the services we offer or any of the conditions we treat please don't hesitate to get in touch.
Get
10% OFF

Your Initial
Booking. DOWNLOAD Now!!
TIME LIMITED OFFER
We respect your email privacy
Your Discount Coupon will be automatically sent to you via email once you have confirmed your request.
Other Conditions
Privacy Policy
By continuing to browse the site you agree to our policy.
To view our policy please click here.