Physiotherapy &amp Osteopathy treatment in Reigate:


Shockwave Therapy

Most commonly treated disorders:
Plantar fasciitis
Achilles Tendinopathy
Calcific Tendonitis
Tennis Elbow (Lateral Epicondylitis)
What is Shockwave Therapy?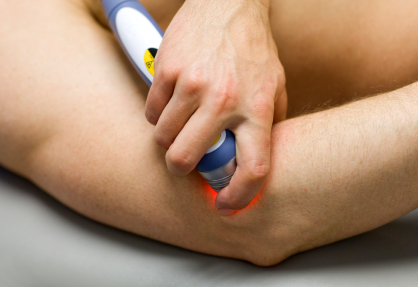 SWT, otherwise known as EWST (Extracorporeal Shockwave Therapy) is a treatment designed to help the recovery of certain chronic Musculo-skeletal disorders. Often, when injuries have reached a chronic stage or failed to respond to the standard treatment pathways EWST is the most recommended way forward to get back on track and avoid the need for surgery. Furthermore, it is recommended and endorsed by "N.I.C.E." guidelines when given in conjunction with an appropriate rehabilitation exercise programme.
Shockwave treatment works by passing targeted high energy impulses through the damaged tissues in radial acoustic waves (not electric shocks!) The waves promote blood flow and cause cellular agitation that triggers the body's healing responses, speeding up metabolic changes and kick-starting cell regeneration and the healing process.
Advantages of SWT:
Medical studies suggest that Shockwave Therapy can have up to 77% success rates. The treatments are non-invasive and can mean you avoid the need for medication. Treatments are quick, effective and have few complications. Results vary depending on the severity and region of injury, but patients must adhere to coordinated exercise and rehab plans alongside the application of Shockwaves to achieve the best results.
Pain or side effects?
The shockwave treatments can have a certain level of discomfort associated with them and occasionally there might be redness or mild bruising of the area targeted. Power can be reduced or increased depending on your tolerance and our therapists will discuss this and adapt based on your feedback.
Costs
Our private patient rate is £70 per session or £195 for a block of 3 or £299 for a block of 5.
Each session lasts 20-30 mins, however, if you are new to the practice you first session will be extended to 1hr to allow a full medical history and examination included within the charges. SWT is covered by all major Health insurers, individual charges vary by company.
For more information about Shockwave Therapy, or to book an appointment please call
01737 247 555
or email us at
reception@parkviewclinic.co.uk
Get in touch...
If you have any questions in regards to any of the services we offer or any of the conditions we treat please don't hesitate to get in touch.
Get
10% OFF

Your Initial
Booking. DOWNLOAD Now!!
TIME LIMITED OFFER
We respect your email privacy
Your Discount Coupon will be automatically sent to you via email once you have confirmed your request.
Other Services
Privacy Policy
By continuing to browse the site you agree to our policy.
To view our policy please click here.