Physiotherapy &amp Osteopathy treatment in Reigate:


Physiotherapy Treatment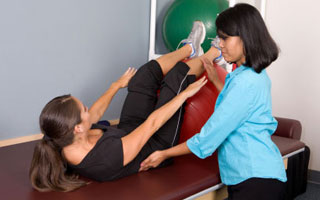 At Parkview Clinic we have a talented team of Physiotherapist's that specialise in treatment and rehabilitation of musculoskeletal disorders. Our therapists offer individualised treatment programmes including a variety of highly effective techniques to ensure the fastest possible recovery from your injury. All of our Physiotherapists are members of the CSP (Chartered Society of Physiotherapy) and the HCPC (Healthcare Professionals Council).
Physiotherapy focuses on improving function by restoring the body's normal movement, and reducing pain that arises from injury to the body's musculoskeletal system (bones, joints, and soft tissues). Therefore, our Physiotherapists have both an in-depth knowledge of the musculoskeletal system and normal movement, and a specialised skill-set to treat a variety of musculoskeletal conditions. Moreover, our Physiotherapists have expertise in the management of long-term pain and disability as well as acute injury. Our Physiotherapists will initially undertake a detailed assessment in order to understand the patients' problems and to provide an accurate diagnosis of the cause of pain and dysfunction. Subsequently, our therapists will help formulate patient-focused goals together with the patient prior to treatment. Depending on your problem, a variety of evidence-based treatment approaches may be used, including:
Manual Therapy
Soft Tissue Massage
Exercise Prescription
Electrotherapy
Acupuncture
Patient Education
The overall aim of our physiotherapy treatment is to improve patient's physical wellbeing, enhance quality of life, and help people return to their normal activities of daily living as soon as possible. Whether you have pain originating from conditions ranging from arthritis to sport injuries, or you have problems with reduced mobility or function, our treatment may be able to help you.
All Physiotherapists are HCPC & CSP Registered.
For more information on physiotherapy, or to book an appointment please call
01737 247 555
or email us at
reception@parkviewclinic.co.uk
Get in touch...
If you have any questions in regards to any of the services we offer or any of the conditions we treat please don't hesitate to get in touch.
Get
10% OFF

Your Initial
Booking. DOWNLOAD Now!!
TIME LIMITED OFFER
We respect your email privacy
Your Discount Coupon will be automatically sent to you via email once you have confirmed your request.
Other Services
Privacy Policy
By continuing to browse the site you agree to our policy.
To view our policy please click here.